Business Liaison
BID Lead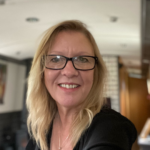 Paula Ratcliffe has been our Business Liaison Manager since April 2019
Project Type
Levy payer interest
We reviewed our approach to business liaison in spring 2019 and made the appointment of a Business Liaison Manager to develop our engagement with, and response to, the needs of our levy payers.
Paula has been our Business Liaison Manager since April 2019 and works to create and maintain links with all levy paying businesses. These relationships ensure that Paula is able to work across all sectors within the BCC BID area and allows her to make representations on their behalf to relevant stakeholders. Paula is also keen to help form collaborative networks, chairing relevant groups and providing introductions to enable businesses to develop reciprocal partnerships.
Paula is also able to advise on Bristol City Centre BID projects or initiatives and any events which may impact upon the smooth running of the city centre, from road closures to public demonstrations or more wider queries about the city centre itself.
The event was extremely helpful and made me realise that our vibrant city is ready to head changes.
'WAKING UP TO WASTE' ATTENDEE JOE DUARTE, UNIVERSITY HOSPITAL BRISTOL NHS FOUNDATION TRUST