Greening
BID Lead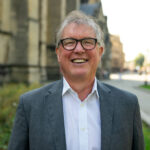 Read about the positive impact our pavement planters are having on the city centre.
Project Type
Welcome & Feel
Thirty-five new pavement planters funded by Bristol City Centre BID and supported by local charity Incredible Edible Bristol were installed by volunteers in June 2019. It's the first in a series of urban greening projects we are introducing to the BID area.
Brimming with seasonal fruit, vegetables, herbs and flowers, these planters are one of the ways we're bringing colour, cleaner air and an urban oasis for wildlife to our streets. This makes Bristol one of the first cities in the country to introduce a more sustainable alternative to the traditional floral displays that usually decorate town and city centres.
As well as looking great, they're a creative way to engage passers-by as the produce is free to be picked by all and could even find its way onto your plate at local restaurants and cafés. People are also being encouraged to look out for pavement planters as they journey around the city, then share their thoughts and pictures using #greenerbristol.
these beautiful and bountiful displays are greener and more sustainable than the usual urban floral displays.
SARA VENN, EDIBLE BRISTOL FOUNDER